Science Graduate Award
This part of the website contains the syllabus for the Swinemoor Primary School Science Graduate Award.
You will need to study all the information presented here.
Staff will help you develop the study skills you need in order to memorize, retain and recall this information.
Once you are confident you can recall this syllabus tell your teacher and they will give you your undergraduate test.
Once you have passed you will receive a badge and be known as an SPS Science Graduate!
Learning resources
Example Questions
When was Charles Darwin born?

Where and when was the Enigma machine developed?

What was the name of the ship that Charles Darwin travelled on?

How long was Charles Darwin's voyage?

Which islands did Darwin visit?

What are telescopes used to do?

Why didn't Charles Darwin publish his findings straight away?

What was the name of the famous code breaker?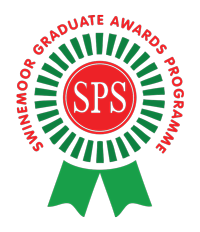 Graduate Awards Programme links: