Our Tradition with Orange Day
Orange Day is a tradition that is unique to our school, it all began with a man called Mr William Spencer.
Mr William Spencer was the Headmaster of Beverley Wesleyan Day School founded in 1840, and then Spencer School, (for 39 years).
Here was a man who believed in education for everyone. He had  an effect of authority on the students that attended his school.
After he retired he kept an interest in his old school. In 1908 he made his will and decided to leave a present for students then and also in the future.
So, he entrusted the Mayor, Alderman and the Borough to invest £100 to pay for oranges to give to the students on the school day nearest to his birthday.
This tradition continues at this school to the present day. The present Mayor still visits and at the end of the afternoon each child is presented with an orange.
Famous benefactor and headmaster William Spencer established the donating of oranges to children at The Spencer School via a bequest in his will. The tradition was carried on by Swinemoor School.
This year was the 104th occasion. Attendees included the Deputy Mayor of Beverley Kate Gray and, for the first time William Spencer's great great niece Mrs. Marilyn Webley.
Handing out oranges at Swinemoor Primary School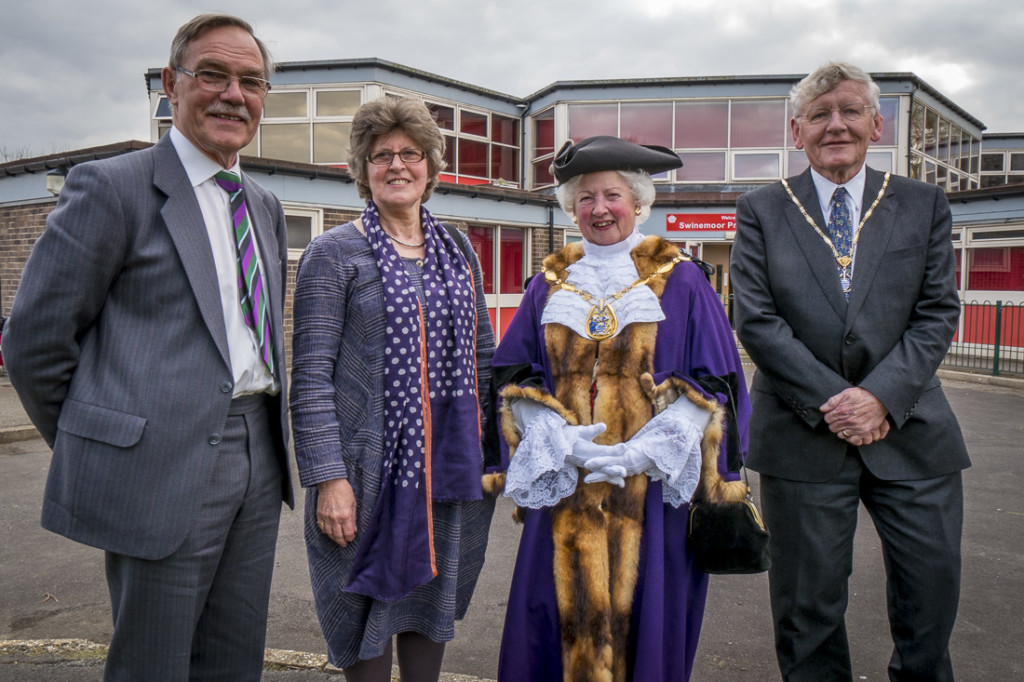 An article from the Beverley Guardian.
Friday, 20th April 1973
Israel oranges save old school tradition. Rising prices have nearly put paid to a traditional ceremony at one of Beverley's primary schools. A former headmaster of Spencer School, Mr William Spencer – who was Mayor of the borough from 1999 to 1902 – left a sum of money to be invested and directed that from the interest each pupil should be given an orange on the nearest convenient day to his birthday.
Now Spencer School is closed, and the pupils attend the modern Swinemoor County Primary School on the new estate. But the interest from Mr Spencer's will didn't keep pace with the rise in the close of oranges, and it looked as though the old custom would go by the board.TO THE RESCUE But a daughter of Mr Wilfred Bolton, the headmaster, is teaching in a kibbutz in Israel and through devious means Mr B. Hawker, regional marketing manager of Citrus Marketing Board of Israel, heard of the school's plight and came forward with the offer to provide the oranges so that the tradition could be maintained.
So "Orange Day" was held as usual last week in the new school, and among the guests were the Mayor and Mayoress of Beverly (Ald and Mrs Eric Beilby), 'Ms G. E. Hawkins (widow of a former governor of the school and Mr Hawker.The pupils were addressed by the Mayor who in turn was presented with a cheque for £18 for his Old Folks' Fund. The money had been raised by various means by the children.